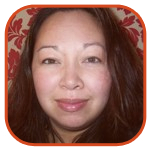 Posted by Monica Edwards Categories: Alijah, Family, Humor, Personal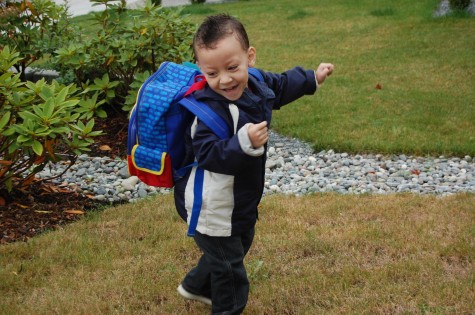 Alijah started preschool on Monday. This will have been the third school he has attended in his short span of 3 years of being—oh, my bad, 3 and 3/4 years. The first school he attended was a private clinic mainly for children with developmental delays, and it was a wonderful place that we still miss. The teachers and therapists there were very patient, loving, and nurturing and it is the place that helped Alijah to begin to walk at the ripe old age of 28 months when most children his age had been running circles around him for months. It was a place very focused on setting a routine for the kids and Alijah became accustomed to that and to the friends he was making for the first time. He learned how to sing songs, and use more sign language than what we were teaching him at home to communicate as he barely spoke when he started there, and when he turned 3 he graduated from that school because they only treat children under 3 years of age.
We then enrolled him into a public school curriculum, yet still a class that was centered around developmentally delayed children his age, as Alijah still has some speech and social delays. This school and his last school were like night and day to us. The teachers were all great, but it seemed as if they did not have as much time to give the kids the one on one attention we had grown accustomed to. I am sure the private funding in the school he came from made all the difference but to a 3 year old, that doesn't add up to a whole lotta' beans. He was used to things a certain way so it took him a while to get adjusted to the kids and new routines. Besides that fact, this was a whole new class with a whole set of new germs so Alijah was out of school more than he was in class due to catching one thing or another every other week—-no exaggeration.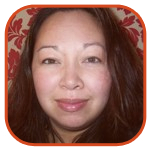 Posted by Monica Edwards Categories: Humor, political
President Bush has some competition when it comes to delivering a speech that is profound, comprehensive, and so beautifully articulated that it makes you wonder if Shakespeare himself had spoken the words. (You will get the Shakespeare reference post video)
This made me realize that even though I may not agree with Bush's tactics politically, dang he can make me laugh…and Miss Teen South Carolina should have taken the crown hands down! Give her the benefit of the doubt, I think she started to say Osama then realized that she knew nothing about Osama so tried to change course and it just completely threw her off balance because in reality she had a really like, good like, speech cause everywhere, like such as, the Iraq and the Asian countries really like need the U.S. to educate them cause like she is the model of like the perfect student.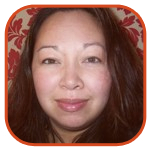 Posted by Monica Edwards Categories: Alijah, Family, Humor, Personal, Religious
Being forced to sleep in his own bed tonight that Andru and I decorated with Thomas the Tank paraphernalia in the hopes that he would actually sleep in his room, Alijah had this prayer for God before Andru tucked him in. Adding to the drama, crocodile tears streamed from his eyes as his bottom lip puckered into the saddest frown he could muster.
"Heavenly Father…for this day, I go bed, Lijah's room, dada night night, I wan see Mama, Amen."
Now if it was me putting him to bed, I would have cracked and brought him straight to our bed just so I could see his contagious smile through all the tears before he fell asleep; but Andru, he does not crack under pressure…and I tell you, this 3 year-old boy, he deserves an Oscar. Especially when he feels his bottom lip as he is frowning to make sure it is in the correct position.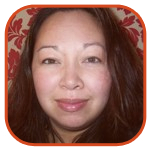 Posted by Monica Edwards Categories: Family, Humor, Personal
Andru and I have been secretly taking some dance classes, inspired by the talents on So You Think You Can Dance, one of my favorite shows. I don't like to brag but heck, I never knew I could look that good doing the Charleston. And Andru? Wow. Danny, forget the 100 pirouettes you can do in under a minute, psh, you have nothing on Andru's fancy footwork. I think I can take Lacey…what do you think?
Scary that we have so much talent eh? Yeah, we like to pull a few tricks out once in a blue moon…keeps things fresh. I think we deserve a spot on the Hot Tamale Train, choo choo! Have a looksy for yourselves, but don't be hatin' on us cause we got the moves.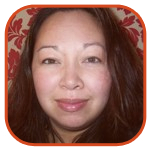 Posted by Monica Edwards Categories: Alijah, Family, Humor, Movies, Personal, Tommy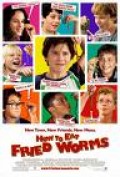 The funniest thing I heard today came from an actor in the movie How to Eat Fried Worms. I was watching this with my two kids while Andru is at Gnomedex literally all day and night. I will be joining him, kids in tow, at the party they are throwing tonight at the Seattle Aquarium where they have giant octopi that suck your brain out quietly while you are none the wiser, or so Nate says. But till then, I had to try and get the two boys to sit still and not argue for at least an hour. It seems that I enjoyed the movie much more than they did…okay now who couldn't with a line like this? Uttered from a preschoolers lips to his older brother—"You're shaking my bike and it's touching my diddly dink!"
I have never heard that expression before, I think I will start using it in random conversations as it will go down as one of my favorites. No, I'm not 12.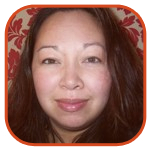 Posted by Monica Edwards Categories: Alijah, Family, Humor, Personal, Tommy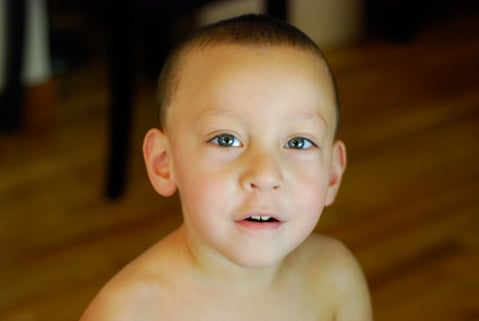 I was reminiscing the other day about Alijah and the cute things he used to do as a baby, then realized that everyday he says something that cracks me up and that I should be writing these things down to look back on with fondness because he is growing so quickly. I thought I would share some of his gems with you…
1. We have two new puppies, a girl and boy, and my 12 year-old is holding the girl and I am holding the boy and he says to me, "Mom, is Zelda a girl?" and I reply "yes, of course" and he says "how can you tell, cause she has one of these like Luigi (pointing to her pee pee as I will refer to it). I reply "yes, she does, but she does not have these" while pointing to Luigi's scrotum. And he asks "what does he have?" And again, I hold up Luigi and say this time, "she (Zelda), doesn't have balls…see, Luigi, he has balls>." To which, Alijah, who I did not know was listening very intently, promptly replies very loudly, "I want balls mama!"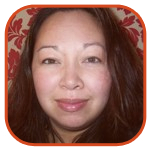 Posted by Monica Edwards Categories: Humor, Personal, Religious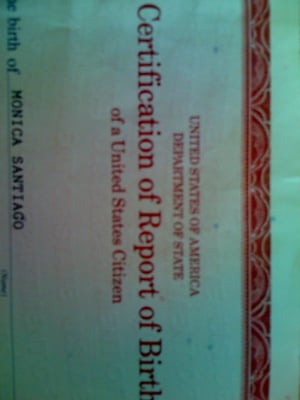 I failed to announce a few months ago that my Dad had finally received my Consular Report of Birth from the powers that be and had sent it directly to me. So in my hands I have held the one thing that allows me to at last feel that I actually exist! This piece of paper with the stamp of Condoleeza Rice was so difficult to track down and I am sure that everyone who prayed for me helped to speed up the process as I needed this piece of identity to be able to travel with some of my church members and 300 or so other young adults from around the world on the mission trip I had mentioned in a previous post.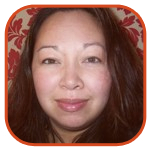 Posted by Monica Edwards Categories: Humor, Personal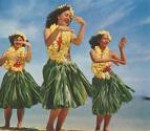 I am excitedly counting down the days till Ponzi and I get to don our grass skirts and leis; sans the coconut boob cups lest we have an unfortunate accident of some kind. We are taking a girls' mini-vacation together to Hawaii, er, rather Honolulu in mid- August. Ponzi has been crazy busy planning and preparing for Gnomedex to be held the second weekend of August, so after months of hard work, when it is all said and done, she deserves to take off for a few days and veg on the beach allowing the cabana boy to wait on her hand and foot…oh, my bad, that was How Stella Got Her Groove Back.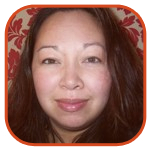 Posted by Monica Edwards Categories: Humor, Personal

At the risk of feeling and looking older than my years, I share with you this picture of my birthday cake from last month. I hesitated to share it, as it is alludes to my true age—notice the look of horror? amazement? on Alijah's face as he stares in disbelief at the cake about to burn to ashes in front of him, before he could get his first taste. Quick, someone grab a fire extinguisher!!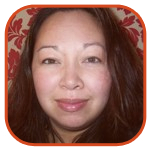 Posted by Monica Edwards Categories: Alijah, Family, Humor, Personal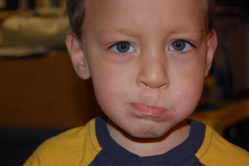 Alijah has developed a strange hyper-sensitivity to heat, any temperature above Arctic cold, he immediately goes into hyper-drive, fanatically announcing to anyone within earshot…"AH, WHAHM!!! AHHH…WHAHM!!" or "AHHHH…H!! MAMA, DADDA,MMMAAAMMAA, AAH HODT!!!" So when you see us immediately transferring his piping hot or soothingly warm meal fresh from the oven or microwave, directly into the freezer to thaw for 5 to 10 minutes we are not trying to cause his untimely death by way of food poisoning, but rather making sure that he will get something in his belly besides string cheese and yogurt.
I don't know when this obsession with heat came about, maybe it stems from my neuroses when first feeding him baby food warmed in the microwave; I always made sure that he knew it was HOT so we had to wait. Also maybe it has to do with the times I hysterically yelled, "NO, DON'T TOUCH, HOT, HOT!!" whenever he stepped a toe into the kitchen as I was cooking. You think I could be the cause of all this drama? And it is very dramatic because it does not just affect how he eats his food, but also the temperature of his bath—now lukewarm is tooo hot, washing his hands—the water has to be cold or else it is "hodt'. He cannot sleep with covers on, they end up on the floor while his tiny body is blue and cold to the touch because he has been sleeping in his diaper and t-shirt all night.
© Gear Live Media, LLC. 2007 – User-posted content, unless source is quoted, is licensed under a Creative Commons Public Domain License. Gear Live graphics, logos, designs, page headers, button icons, videos, articles, blogs, forums, scripts and other service names are the trademarks of Gear Live Inc.