Wednesday August 1, 2007 5:17 am
What He Said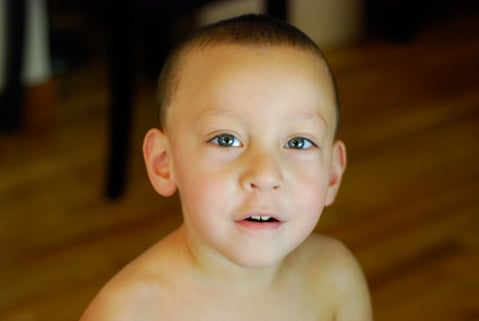 I was reminiscing the other day about Alijah and the cute things he used to do as a baby, then realized that everyday he says something that cracks me up and that I should be writing these things down to look back on with fondness because he is growing so quickly. I thought I would share some of his gems with you…
1. We have two new puppies, a girl and boy, and my 12 year-old is holding the girl and I am holding the boy and he says to me, "Mom, is Zelda a girl?" and I reply "yes, of course" and he says "how can you tell, cause she has one of these like Luigi (pointing to her pee pee as I will refer to it). I reply "yes, she does, but she does not have these" while pointing to Luigi's scrotum. And he asks "what does he have?" And again, I hold up Luigi and say this time, "she (Zelda), doesn't have balls…see, Luigi, he has balls>." To which, Alijah, who I did not know was listening very intently, promptly replies very loudly, "I want balls mama!"
2. I have been trying to teach Alijah that he is a boy and that Dada and Tommy are also boys while Momma and Aunt Ronnie are girls, so, Andru was about to change Alijah's diaper the other day and he was shirtless, standing over Alijah, and Alijah says to me, "mama, es that Dada's boobs?" "mama, es dada a gweerl?" To which I then replied, "yes, babe, those are Dada's boobs, but Dada is a boy" to which Alijah replies, "Lisha's a booy, dada's a gweerl" (Sorry babe, that's your son)
3. Alijah has officially changed these words from the plain ol' original versions…hotdogs and corndogs are now buttdogs, toothpaste is now buttpaste, and pancakes are now buttcakes—who knew? After dinner one night he says, "mmm, buttdogs are good mama".
4. Shouting at the puppies because they are incessantly barking their heads off all the time, Alijah will stand at the back door looking out at them and says in his most authoritative voice "Luishee, Selda, STOP PARKING!"
5. Alijah has many Thomas the Tank trains and he knows the names of all of them. He began to talk about a particular train one day and I had no clue what he was saying except for the fact that he kept repeating the word, "Percy" but he did not say it this way. Imagine a 3 year-old that has a hard time pronouncing the "er" sound and instead it comes out as "u". I will allow you to figure that out for yourselves. Anyway, Andru had to exploit this fact the next time we went to look at trains, and asked Lijah if he would like to have Percy. So one day Alijah is talking about Percy and how much he likes his new train, except it comes out as " I like P_ _ _ Y, mama" to which I can only say, "That's great babe, you like PEERCY?"
There are so many more Alijah-isms to share but I will limit myself to five for now. I hope they bring a smile and chuckle to your lips as they have ours.
Disclaimer: After reading my post Andru has corrected me on how Alijah says our dogs names, they should be typed as Aleeshee (for Luigi) and Senda (for Zelda). Not many people know that Andru speaks "toddler".
© Gear Live Media, LLC. 2007 – User-posted content, unless source is quoted, is licensed under a Creative Commons Public Domain License. Gear Live graphics, logos, designs, page headers, button icons, videos, articles, blogs, forums, scripts and other service names are the trademarks of Gear Live Inc.