Thursday February 15, 2007 8:50 pm
That Is What Elmo Gets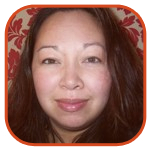 Posted by Monica Edwards Categories: Alijah, Family, Humor, Personal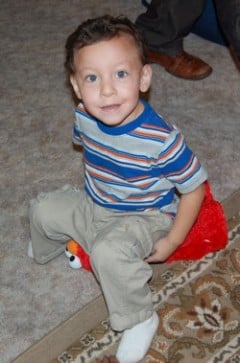 So, following the mass hysteria of crazed parents dying to lay their grubby hands on the new Tickle Me Elmo TMX, we shelled out our grocery money for the week, a whole $200 for the rights to spoil our child the way we see fit. Okay, we gave up our food for the week for a good cause, we bid on Elmo at a silent auction at our older son's school to raise money for the kids, so we can live with having to starve our children for seven days.
What I am hesitant to mention though is that my brilliant husband in his greediness to win said auction actually guarded the piece of paper with his last winning bid, as if his life depended on it. He actually created a sort of hood around the piece of paper with his ginormous shoulders so that no one dare ask him to move out of the way. What he did next he will never live down; the announcer counts down 2 minutes left till the silent auction is over, so hurry and get your bids in. A woman approaches, another psycho parent with that hungry look in her eyes, wanting to take a peek at the last bid on Elmo, but Andru pretty much shoulder blocks her, like he was in the freakin' NFL. What I did not know was that he was so freaked out by her presence that he pretended to be actively looking over the last bid and when she made another move to see the bid, he takes out his pen, crosses out his last bid, and OUTBIDS HIMSELF.
If I had known what he was up to, trust me I would have stopped him at the $150 we were about to lose but I was none the wiser to his smooth moves of outbidding himself so that he could scare the other bidders away. Not until the announcer presented the winning bids, and informed the audience that Andru Edwards bid $200 for the TMX, did I know that we were going without milk and bread. I did not know that we won the Elmo because of his "excellent" bidding tactics until I was forced to write a check for the red monster.
I picked up the sheet to check the bid, ready to write a check for $150 and saw that "someone" had crossed out the $150 and replaced it with $200…there were no bids after Andru's so why? I was slow to understand due to a head injury when I was 10 involving a rock and a very large tree, don't ask, but finally realized that my wonderful husband had outbid himself. I was too embarrassed to ask if I could just pay the $150, seeing as my husband was the one who bid higher than himself.
I paid the nice lady and we came home with a $200 dollar Elmo we could have gotten for $34.99 if the pressure of having to follow the masses wasn't so overwhelming. We could be known in our neighborhood as the parents who secured a TMX Elmo, before Christmas. That is a victory in itself, worth two weeks of groceries; ask any parent with a toddler.
Alijah's reaction to Elmo when he was finally allowed to open the box that he had been playing with for a month? Well, let's just say, that is what Elmo gets for making us starve. Here is a picture, we do have video but I don't think that the MPAA would give it a "G" rating so I hesitate in sharing it.
© Gear Live Media, LLC. 2007 – User-posted content, unless source is quoted, is licensed under a Creative Commons Public Domain License. Gear Live graphics, logos, designs, page headers, button icons, videos, articles, blogs, forums, scripts and other service names are the trademarks of Gear Live Inc.