Thursday April 12, 2007 8:49 pm
Review: I LOVES My Tom Bihn Cafe Bag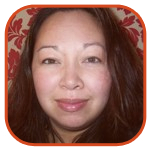 Posted by Monica Edwards Categories: Business, Personal, Reviews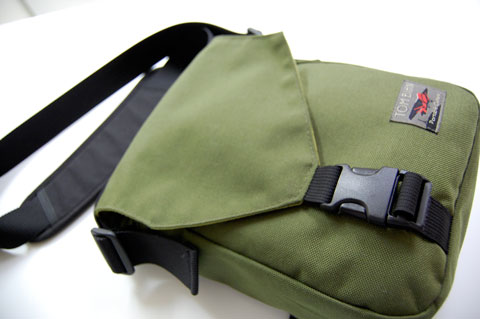 So, I have had my Tom Bihn small Cafe Bag for over a month now and I just love, love it. Before I received it in the mail, I was always in a dilemma—do I bring a purse and diaper bag? Or just stuff some diapers, wipes, and a few toys into my purse for our 3 year old? I hated to carry both so I always opted for the diaper bag, and when it came to finding my wallet, keys, or cell phone in the deep chasm, it took me an eternity. Also, when Andru and I went out on our weekly date, I would always end up carrying a purse filled with baby paraphernalia because I had neglected to empty it before leaving—sometimes embarrassing when you are out at a nice restaurant and diapers and wipes come flying out of your purse as you reach for your lipstick.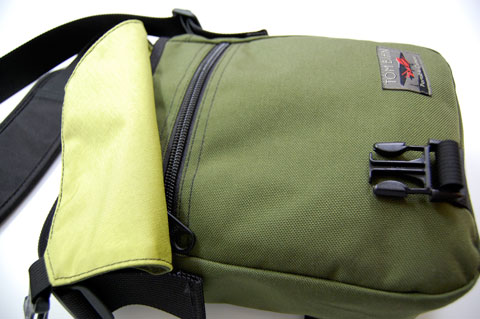 Alijah has come to an age now that I don't have to carry around a huge diaper bag filled with every necessity under the sun to avoid any type of drama that might arise. I am happy to say I just have to carry the bare essentials when we go out for a quick jaunt. Enter the

Cafe Bag

that I had secretly been coveting ever since I laid eyes on it the first time we met Tom and Darcy. It is sporty, attractive, and big enough to carry all I need, yet small enough so that it is not cumbersome. It can be worn over the neck and shoulder with an adjustable strap that has a non-slide attachment, which is a great plus for me as I always seem to have Alijah's hand tightly gripped in my one hand and some sort of toy or keys and groceries in the other.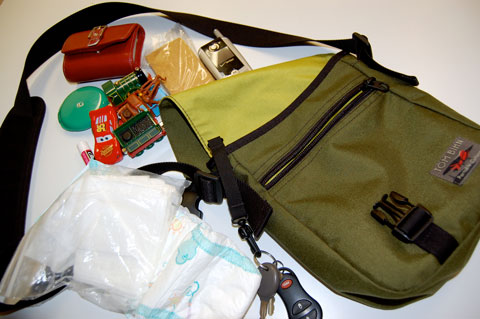 As for locating my keys or cell phone and wallet…easy as pie. The Cafe Bag has an attached clip for your keys, and a zippered inner pocket that I keep my cell phone in, if not in the outer back pocket, and my wallet is always easy to locate inside. I keep my chapstick and powder in the inner small pocket meant for a PDA or cell phone, next to the pen holders, (also great, as I can never seem to find a pen), and slide two diapers and a bag of wipes in with my wallet as well as a few cars and trains to keep Alijah content. I have also been known to carry a bag of goldfish crackers for an emergency snack attack.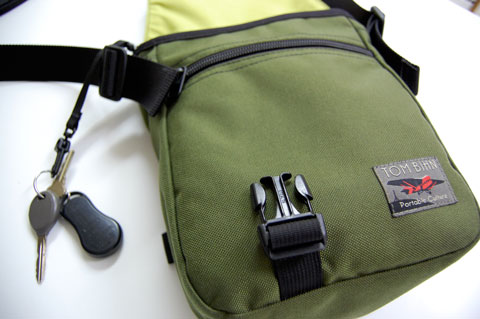 The bag has a snap buckle closure in front to keep all my belongings secure as well as not allowing any loose fingers (i.e. 3 year old fingers) from easily getting in and rifling through my wallet. The only difficult decision I had in choosing the bag was when it came down to color. The combinations are so hip and I would love one in every color, so instead I chose the combo of Olive and Wasabi. There are 10 color combinations to pick from, each one with it's own personality. The Small Cafe Bag retails for $45.00, a bargain for it's quality design and durability. Features that are important for a mom who wants style with ease of use and that will outlast a 3 year old's sticky fingers. It also comes in a Medium and Large size retailing at $50, and $55 dollars.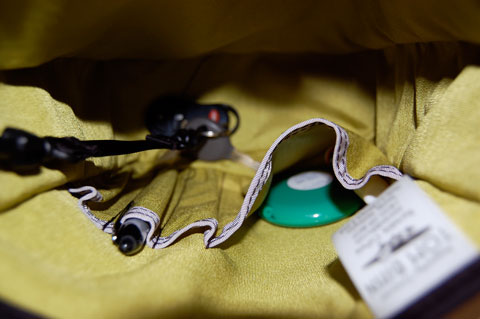 In the month or so that I have been using the Cafe bag, my purses have been collecting dust, as well as the ginormous diaper bag. The only slight downside, very slight, is the non-slide pad that can move up and down on the strap—when it stays in place on my shoulder, it is wonderful, but most of the time it is somewhere in the middle of my back so I just don't bother with it. Like I said, slight…but I wanted to give the most honest review so I had to mention it.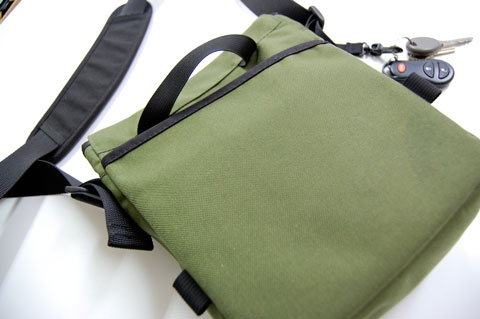 Overall, I will say it again…I LOVES my Tom Bihn Cafe bag. It is not just for mommies like me, but made for everyone on the go. I would highly recommend any of Tom Bihn's products as I have yet to be disappointed by any of his wonderful bags. Added bonus, it makes me feel good to know that Tom makes all his bags here, in the good 'ol U.S.A. and loves to show off his employees hard at work—go for a factory tour, he is happy to oblige. It is a very fascinating and informative tour of how his bags go from just a mere concept to the finished product.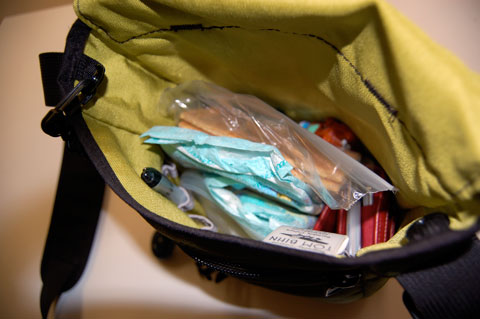 Thank you Tom and Darcy for my lovely, cool bag. It is one of my most favorite things…hmm…wonder if Oprah would include it in her My Favorite Things episode?
© Gear Live Media, LLC. 2007 – User-posted content, unless source is quoted, is licensed under a Creative Commons Public Domain License. Gear Live graphics, logos, designs, page headers, button icons, videos, articles, blogs, forums, scripts and other service names are the trademarks of Gear Live Inc.