Monday February 26, 2007 10:44 am
If Your Dog Goes Missing; Check the Fridge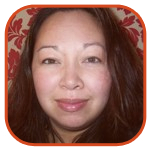 Posted by Monica Edwards Categories: Alijah, Family, Humor, Personal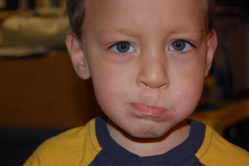 Alijah has developed a strange hyper-sensitivity to heat, any temperature above Arctic cold, he immediately goes into hyper-drive, fanatically announcing to anyone within earshot…"AH, WHAHM!!! AHHH…WHAHM!!" or "AHHHH…H!! MAMA, DADDA,MMMAAAMMAA, AAH HODT!!!" So when you see us immediately transferring his piping hot or soothingly warm meal fresh from the oven or microwave, directly into the freezer to thaw for 5 to 10 minutes we are not trying to cause his untimely death by way of food poisoning, but rather making sure that he will get something in his belly besides string cheese and yogurt.
I don't know when this obsession with heat came about, maybe it stems from my neuroses when first feeding him baby food warmed in the microwave; I always made sure that he knew it was HOT so we had to wait. Also maybe it has to do with the times I hysterically yelled, "NO, DON'T TOUCH, HOT, HOT!!" whenever he stepped a toe into the kitchen as I was cooking. You think I could be the cause of all this drama? And it is very dramatic because it does not just affect how he eats his food, but also the temperature of his bath—now lukewarm is tooo hot, washing his hands—the water has to be cold or else it is "hodt'. He cannot sleep with covers on, they end up on the floor while his tiny body is blue and cold to the touch because he has been sleeping in his diaper and t-shirt all night.
Now I have resorted to forcibly making him wear either footie pajamas or long underwear type pajamas to bed, which causes him to toss and turn for an eternity before finally deciding to sleep. Let me tell you, this boy is HIGH maintenance…if I hold his stainless steel fork too long and hand it to him, the cries of "AAAAAHHH WAAHHM" come spewing forth. He has taken this to the extremes. We almost had to put a straight-jacket on him today in order to get his pants on because they had come from the dryer 15 minutes before he put them on.
So, we went to look at some puppies the other day because our big plan is to buy a house then get a puppy for the kids, and we like to torture them now and again, as owning a home is not something that is in the very near future; yet we love to go to this wonderful puppy store in Bellevue that sells pure-breeds and allows you to hold them and love on them and check each breed out without the commitment of taking one home, so we tease the kids every so often and take them there so we can drool over the precious pups.
On this particular trip, we decided to let Alijah hold one of the puppies because he asked nice and signed and said, "PWWWEEEASE, SIJAH TEWRN" (translated; please, Alijah turn). So I sat him down on the floor, holding the puppy in my hands, I knelt down next to him and allowed him to pet the puppy "nice" as he says, and made sure to tell him that we don't squeeze the puppy but hold it "nice" to which he answered, "otay". I pass the puppy into his hands, and as soon as he wrapped his fingers around it a cry emanated from his lips as he shoved the puppy back towards me…."AAAHH WAAHHM!!" all said with a look of disgust on his face as if to say "You never told me this thing would have warm blood pumping through it's veins, get me a COLD puppy WOMAN!"
Andru and I looked at each other and I asked him, "Did he just say aaahhh, wahm?" and he nodded his head yes as we both could not help laugh at his toddler drama. A warm puppy? Who knew his neurotic 3 year old mind could carry it that far. He is bound to win an Oscar one day. Andru and I decided that when we get a puppy, if it happened to go missing, the first place we would look…the fridge, because who in their right mind would want to cuddle a warm, let alone "WHAHM" puppy?
© Gear Live Media, LLC. 2007 – User-posted content, unless source is quoted, is licensed under a Creative Commons Public Domain License. Gear Live graphics, logos, designs, page headers, button icons, videos, articles, blogs, forums, scripts and other service names are the trademarks of Gear Live Inc.